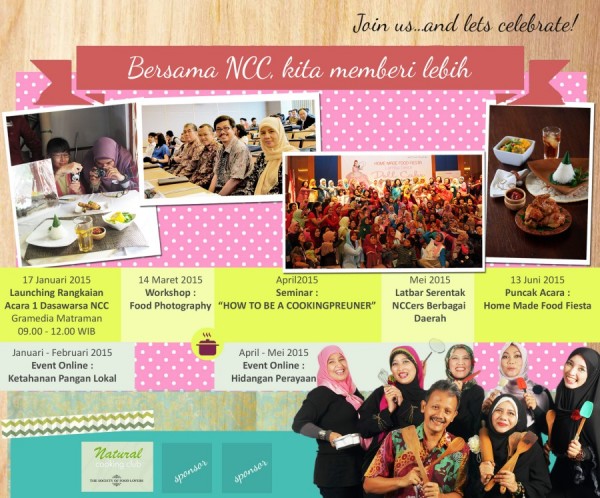 Tanpa terasa, NCC telah mencapai usia sepuluh tahun.
Melirik ke belakang, NCC hadir sebagai hadiah dari seorang suami untuk istri tercintanya.
Berawal dari beberapa anggota hingga kini telah mencapai puluhan ribu anggota dan menelurkan siswa yang tak terbatas usia, jenis kelamin, latar belakang pendidikan, daerah, ras, pekerjaan. Menghadirkan beragam usahawan di berbagai bidang yang tak pernah terpikirkan sebelumnya: bakulan kuiner rumah tangga, food stylist, food photographer, cake decorator, kurir kue dan banyak lainnya.
Berbagai penghargaan diperoleh dalam rentang satu dasawarsa ini, beragam buku diterbitkan dan dicetak ulang, sungguh sepuluh tahun yang patut disyukuri.
Dan dalam rangka ungkapan syukur itu, NCC mengundang NCCers untuk hadir dalam rangkaian acara Satu Dasawarsa NCC berikut ini:
Januari 2015 – tgl 17 – Launching Rangkaian Acara Dasawarsa NCC
Maret 2015 – tgl 14 – Workshop: Food Photography
April 2015 – Seminar: "How to be a cookingpreuner"
Mei 2015 – Latbar Serentak NCC Daerah
Juni 2015 – tgl 13 – Puncak Acara: Home Made Food Fiesta
Event online:

Jan-Feb 2015 – Ketahanan Pangan Lokal
Apr-Mei 2015 – Hidangan Perayaan
Mari kita ikut merayakan acara-acara ini dan jangan sampai ketinggalan info terbaru yang akan selalu kami update baik di milis, FB Group, FB Fan Page dan Twitter.
Jalan NCC masih panjang, teman-teman. Ada banyak harap dan doa yang dipanjatkan. Oleh karenanya mari bergabung bersama dalam kemeriahan ini untuk menandai berpuluh-puluh tahun NCC mendatang.
Ditunggu yaaa…