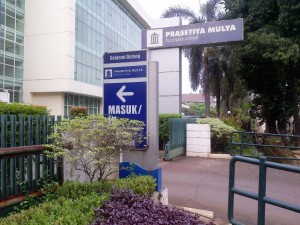 Graduates Program of Prasetiya Mulya Business School (PMBS) conducts Immersion Program with Deakin University (Australia) William & Mary, Mason School of Business, Deakin and Asuransi Astra on March 2014 at Prasetiya Mulya Cilandak Campus. Demikian bunyi pengumuman di website Prasetiya Mulia Business School (PMBS).
Tujuan Immersion Program adalah untuk meningkatkan kemampuan para mahasiswa graduate dalam mengembangkan bisnis dan hubungan internasional.  Melalui program ini para mahasiswa akan bersentuhan langsung dengan global networking, mendalami kasus bisnis nyata, menghasilkan solusi bisnis nyata,  mempelajari budaya global dan juga mengunjungi  berbagai industri dan perusahaan.
Kami merasa sangat beruntung telah diminta oleh manajemen PMBS membantu program menambah wawasan kuliner sebagai bagian dari 'mempelajari budaya global' yang harus dilakukan para mahasiswa (sebagian besar dari Australia) Immersion Program ini, pada tanggal 3 Maret 2014 bertempat di kampus Cilandak.
Karena beragamnya kuliner di Indonesia, terpilihlah nasi goreng dan sate ayam sebagai menu yang harus dipelajari (dan dipraktekkan) oleh para mahasiswa Immersion Program yang berjumlah 30 orang ini. Pemilihan menu ini didasarkan pada berbagai alasan, diantaranya kemudahan pembuatannya dan juga karena kedua menu tersebut (nasi goreng dan sate) sudah dikenal di dunia.
Para mahasiswa dibagi menjadi 6 kelompok, di mana setiap kelompok diharuskan membuat satu jenis nasi goreng (ada 6 jenis nasi goreng yang disiapkan) dan sate ayam.
Lumayan seru, karena para mahasiswa (dan mahasiswi) asing itu harus menggunakan peralatan masak tradisional Indonesia, antara lain cobek dan pemanggang sate, lengkap dengan kipas bambu.
Tim NCC terdiri dari mbak Fatmah Bahalwan, dibantu Riana Ambarsari dan Sindhi Savira. Ketiganya harus mondar-mandir di antara 6 meja untuk memberi arahan dan contoh. Walaupun sudah diberikan resep dalam Bahasa Inggris, tetap saja masih diperlukan bantuan.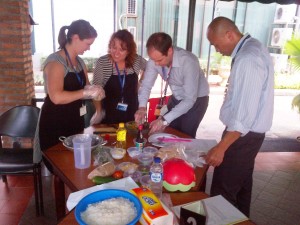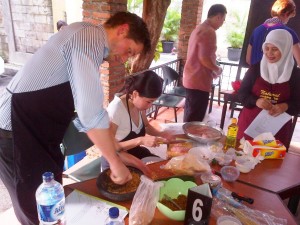 Acara yang dimulai dari jam 15 sore ini selesai jam 17.30. Setelah dilakukan penilaian oleh para juri, semua makanan dikumpulkan di ruang pertemuan PMBS, untuk disantap bersama dalam acara dinner.